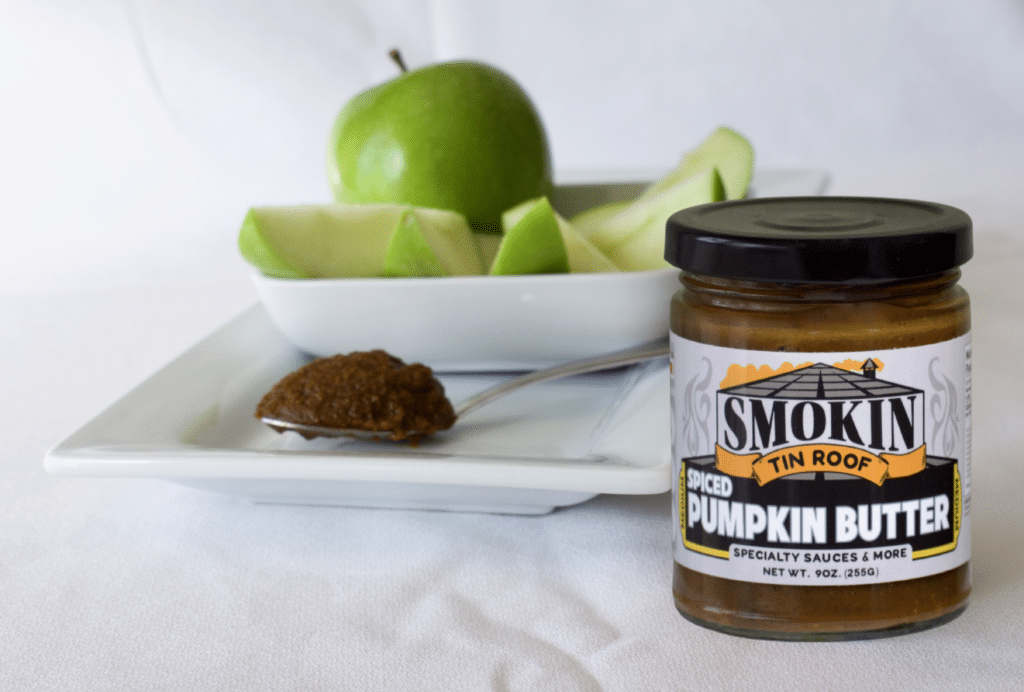 It's a unique blend that tastes like your favorite pumpkin pie but with an exciting surprise – a delicate kick of spice that's sure to delight your taste buds.
What is Spiced Pumpkin Butter?
Spiced Pumpkin Butter is more than just a spread; it's a delightful journey of flavors. Imagine the taste of sweet, ripe pumpkin blended with aromatic spices, infused with just the right amount of ghost pepper powder to boost it from the ordinary. It's not your typical fruit spread – it's a playful blend of sweet and spicy, a rollercoaster ride of flavors that make your meals more exciting and memorable.
Our Spiced Pumpkin Butter is a fantastic way to add warmth and depth to your dishes, offering a subtly sweet base enhanced by a delightful touch of spice. It's a beautifully balanced condiment that brings together the flavors you love in pumpkin spice with an unexpected twist.
Learn more about this mouth-watering spread here.
Delicious Ways to Use Pumpkin Spice Butter
Wondering about some creative "pumpkin butter uses"? Our Spiced Pumpkin Butter is incredibly versatile and can be used in a multitude of ways, from savory meals to sweet treats. Let's explore some of our go-to ideas and recipes using pumpkin butter.
Breakfast Toast: Amplify your morning toast by slathering a layer of our Spiced Pumpkin Butter. The sweet and spicy twist will make your mornings truly delightful.
In Baking: Baking cookies, muffins, or bread? Add our Spiced Pumpkin Butter for a flavorful surprise. It adds a depth of flavor that ordinary pumpkin spice can't achieve.
As a Glaze: Thinking about what to do with pumpkin butter in the savory arena? Use it as a glaze for your grilled meats. It pairs wonderfully with pork, chicken, or even fish, giving them a unique, sweet-spicy flavor profile.
With Ice Cream: Drizzle our Spiced Pumpkin Butter over vanilla ice cream for a dessert that balances cool creaminess with a hint of warming spice.
In Cocktails: Yes, you read that right! Spice up your cocktail game by adding a dash of our Spiced Pumpkin Butter to your autumn-inspired drinks.
Why Choose Smokin' Tin Roof's Spiced Pumpkin Butter
At Smokin' Tin Roof, we believe in creating spreads and sauces that are not just about the heat but also about the balanced blend of flavors that provide an unforgettable taste experience. Our Spiced Pumpkin Butter is no exception. It's an invitation to a culinary adventure where sweet meets spicy and familiar meets daring.
We're committed to using high-quality ingredients, and we meticulously craft our sauces and spreads to ensure each jar is packed with a burst of flavor that's ready to elevate your dishes. Each and every one of our products is a testament to our dedication to delivering unique and well-balanced products that puts a fresh spin on beloved flavors.
Choosing our Spiced Pumpkin Butter means choosing to explore a world of flavor that's out of the ordinary. It's not just about adding heat to your dishes; it's about transforming meals into experiences, about taking the flavors you love and introducing an exciting twist.
Experience the sweet and spicy symphony of our Spiced Pumpkin Butter today. It's not just a spread. It's a celebration of flavor!