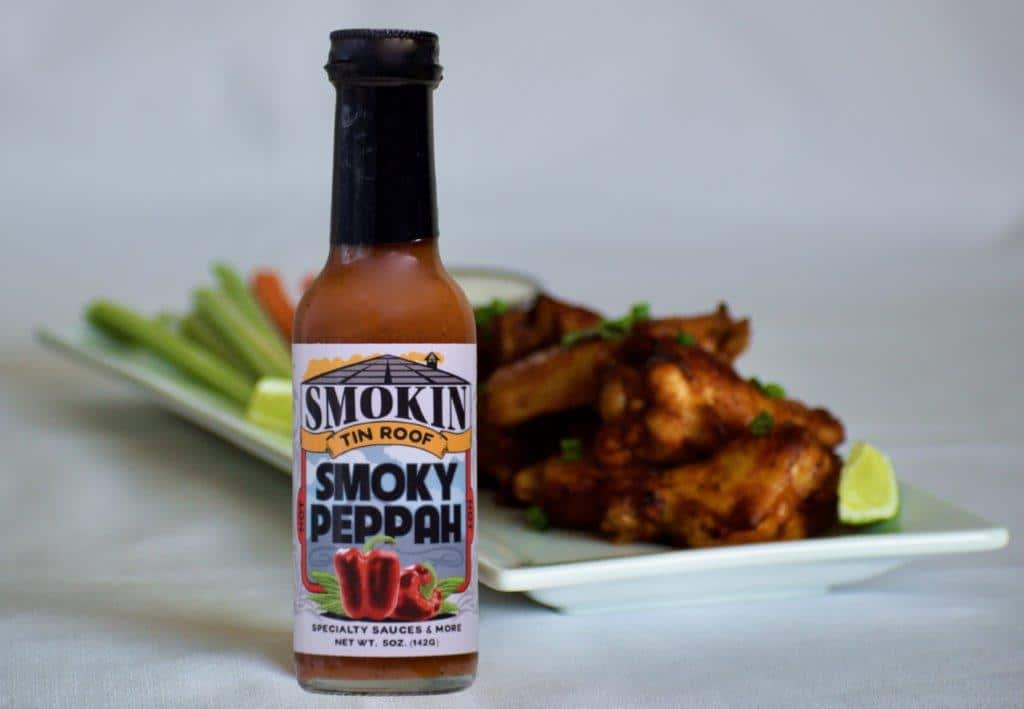 Looking for the perfect sauce to pair with your baked chicken wings? Look no further than Smokin' Tin Roof's Smoky Peppah sauce. This unique blend of spices and cooking methods creates an unforgettable taste that will elevate your wing experience. Not only is it easy to use, but it also offers health benefits, making it a guilt-free indulgence. So fire up the grill, marinate your dish in Smoky Peppah sauce, and prepare for a mouthwatering treat. We'll walk you through how to use the sauce effectively and provide tips for taking your spice game to the next level.
What is Smoky Peppah Sauce?
To create unforgettable wings, you need a sauce that delivers flavor, heat, and a touch of sweetness. Our Smoky Peppah Sauce is a game-changer for anyone looking to elevate their wing experience. With its rich smoky undertones and hints of pineapple sweetness mixed with a fiery, peppery kick, this sauce is bound to become a staple in your kitchen.
But don't be fooled into thinking this sauce is just your average hot sauce. The secret behind the addictive taste of Smoky Peppah Sauce lies in our unique blend of spices and cooking methods. We carefully crafted our sauce to transform ordinary meals into a mind-blowing culinary adventure.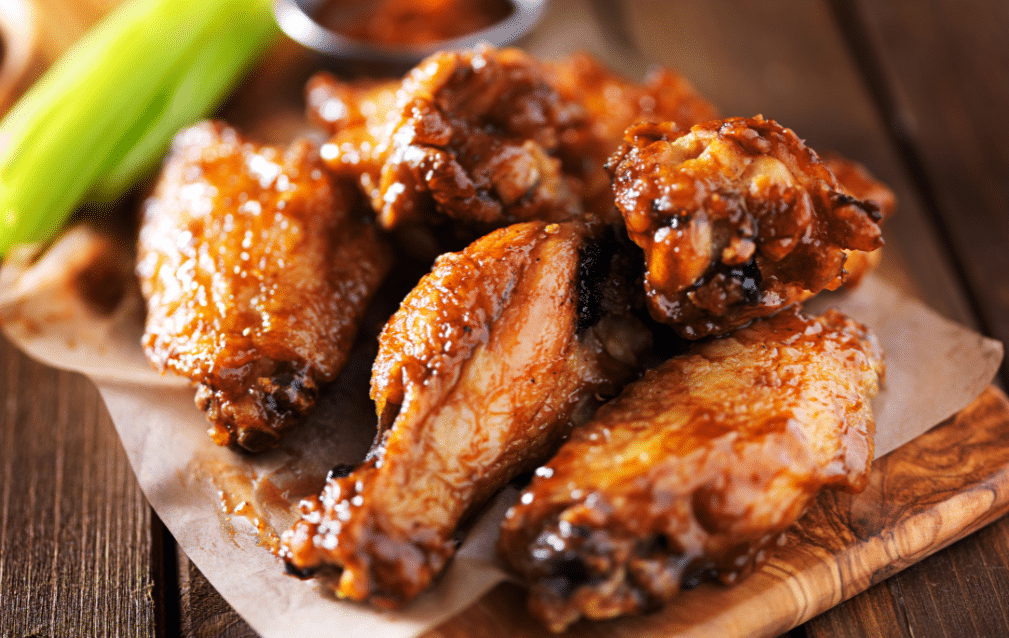 How to Use Smoky Peppah Sauce on Wings
You must use it effectively to make the most out of our Smoky Peppah Sauce. Here's a step-by-step guide that'll help you turn your chicken wings into a mouthwatering treat:
Marinating the Wings
First, start by marinating your wings in the Smoky Peppah Sauce. Let the wings sit in the sauce for at least 4 hours in the refrigerator to achieve the best results. This allows the sauce to penetrate the meat, ensuring that every bite is packed with flavor.
Grilling the Wings
To keep the wings tender and juicy:
Preheat your grill to medium heat.
Place the marinated wings on the grill, but don't overcrowd the cooking area.
As the wings cook, baste them generously with the Smoky Peppah Sauce. This step will enhance their flavor and create a beautiful, caramelized crust.
Tips and Suggestions
For an extra layer of flavor, try adding a dry rub to the wings before marinating them. This combination of dry and wet ingredients will create a richer taste profile. Additionally, consider serving your saucy wings with a cooling dip, like blue cheese or ranch dressing, to balance out the sauce's heat.
Benefits of Using Smoky Peppah Sauce
Smoky Peppah Sauce is more than just a flavor enhancer for your meals. This sauce offers a myriad of benefits that can elevate your overall dining experience. Here are some of the ways that using Smoky Peppah Sauce can be advantageous:
Effortless Cooking
Making your own wing sauce from scratch can be time-consuming and laborious. Our Smoky Peppah Sauce can help you reduce the time required to prepare delicious wings. This ensures a hassle-free cooking experience, allowing you to focus on enjoying your meal with friends and family.
Health Benefits
While the irresistible taste is reason enough to use Smoky Peppah Sauce, our sauce also offers health benefits. Made with natural ingredients and low in calories, it's a guilt-free indulgence for those looking to enjoy finger-licking wings without compromising their health. Plus, the ingredients in our sauce, such as peppers, provide antioxidants, which can help support overall health.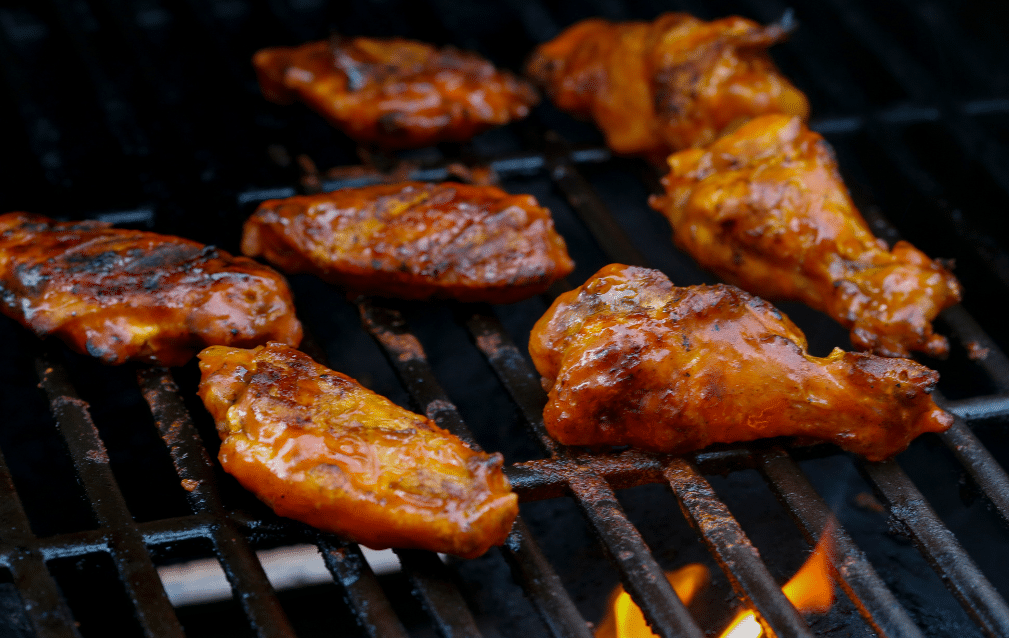 Take Your Meal Game to the Next Level with Smokin' Tin Roof
Smokin Tin Roof's Smoky Peppah Sauce is the perfect addition to any kitchen. Whether you're hosting a party or just looking to elevate your everyday meals, this sauce is sure to impress. The unique blend of spices and ingredients creates a slightly sweet, smoky, peppery flavor that will leave your taste buds begging for more.
Not only is our Smoky Peppah Sauce delicious, but it's also versatile. It pairs perfectly with wings but can also be used as a dipping sauce for vegetables, a marinade for meats, or a topping for burgers and sandwiches. The possibilities are endless!
One of the best things about our sauce is that it's made with high-quality, all-natural ingredients. We believe in using only the best ingredients to ensure that our customers get a sauce that is not only delicious but also healthy, so you can feel good about serving our Smoky Peppah Sauce to your family and friends.
So, what are you waiting for? Grab a bottle of Smokin Tin Roof's Smoky Peppah Sauce today, and get ready to take your dishes to the next level. The delicious flavor and unique taste will blow your guests away. Trust us; your taste buds (and guests) will thank you for it!
Purchase our Smoky Peppah sauce here, and be sure to explore other delicious recipes that'll take your taste buds on a culinary adventure.